Story / 24 Apr 2017 / 0 COMMENTS
With the Night Bus from Bangkok to Chiang Mai
I felt so safe knowing that I booked my bus ticket from Bangkok to Chiang Mai via the phone reservation service of Nakhornchai Air, but completely forgot to make the mandatory payment at 7/11 within the 15min of booking it.
It was only when I tried to pay for it three hours before departure that I found out I had lost the ticket. A shudder went down my spine and I felt an onset of panick that lasted for a roughly five seconds before I told myself: "You didn't even lose any money, just go to the bust station and see what's available!"
I returned to Monkey Nap Hostel to pack my things and bumped into Sarah whom I told about my little misshap.
"You want to join us to the bus station and share the cab?" she offered.
"When are you leaving?" I asked whilst looking at my phone to check the time.
"At 6:30pm" she replied proudly with a typical German confidence hinting that everything was planned out 'wie es sich gehört!'
"I want to be there at least two hours ahead of time" she admitted.
"Can we push it back to 6:45pm so I have more time to have dinner with my dad and Ricky?" I asked quietly as I expected a typical and harsh German "No!"
"We can do 7pm of you like" she offered. "I think it's way too early anyway" (She later admitted how hard it is for her not to conform so perfectly to the typical German stereotype).
With 30min gained, I had time for a quick goodbye dinner. Both me and my dad knew that it would be at least a year until we would see each other and Ricky admitted that it might be even longer for us to cross paths.
"Let's meet in Barcelona" we both agreed as I hailed a taxi to take me, Laura and another girl from the UK to the bus station. It was painful to say goodbye but as I sat there in the taxi reminiscing about the past and the future, I felt both sad and excited at the same time – the exact same feeling I had all those years ago when I left Germany to travel to Thailand overland. I quickly composed myself and turned around to talk to the girls for the rest of the ride.
You could see that the bus station was busier than usual. Throngs of people lined the floors patiently waiting for their connection back home. It is Songkran in Thailand, where many people living in Bangkok return home to celebrate the buddhist new year with their friends and family. It's the Thai equivalent of Christmas or Chinese New Year.
We must have looked lost when a lady came up to us and asked in her broken English: "Where you go?"
"Chiang Mai Krup" I replied in Thai and added that the girls already had a ticket booked online.
"Over here" she replied and pointed to the booth next to us.
As I got the tickets sorted out for the girls, I noticed a couple of empty seats on the booking screen.
"I got a seat next to you" I proudly told Sarah with a big smile before boarding the bus. "It always works out somehow" I quickly added.
The bus ride was not the most comfortable but we did have a lot of legroom and even a phone charger. It was around 6:30am when we arrived at Arcade, the nickname of Chiang Mai's bus station. With an Uber booked to take us into town, we had to sneak around the corner to get into the car.
"Sorry I couldn't pick you up there" he apologised.
"This is the their territory" he pointed at the red pick up trucks parked in front of the bus station.
After dropping off our things at the hostel we decided to check out the temples close by. It was only when I strolled inside Wat Phra Singh temple that I realised – I never really explored the temples within Chiang Mai, even though I traveled here so many times before.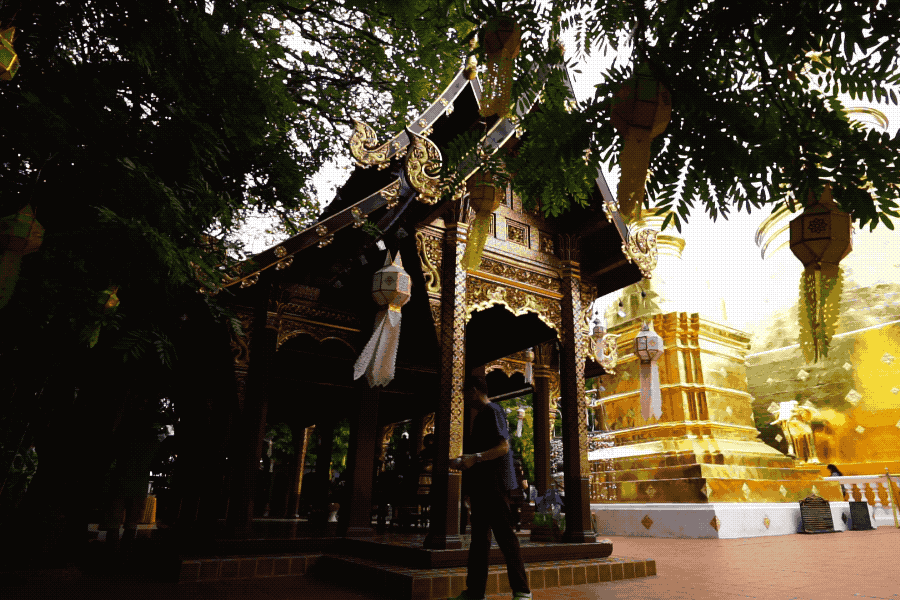 Songkran was still in full swing but inside the old town the festivities were more subdued and focused on traditional activities such as cleansing the buddha statues with holy water, prayers and merit making in form of money trees and flower garlands.
I only stayed in Chiang Mai for two nights but managed to catch up with old friends from Canada and met great people in the process. It was time to move on and travel up north towards Chiang Khong and onwards into Laos.
PREVIOUS STORY

Goodbye with a Splash
NEXT STORY
Bus, Tuk Tuk, Minivan and Hitchhiking from Chiang Mai to Luang Namtha