Story / 14 Dec 2014 / 0 COMMENTS
Climbing Huangshan (Yellow Mountains)
What I realised in the two weeks that I have been in China and travelling with Ronan is that we plan less and less the further we go. Instead of following a set itinerary we just have a rough plan for where we wanted to have our base and make decisions about our next steps based on recommendations of people we meet on the way.
Huangshan (yellow mountains) was such a case, as we only heard about it from a Swedish girl we met in Beijing and later again in Shanghai. Instead of booking our trains well in advance we just opted to just turn up an our or two before departure and get the tickets on the spot.
Even though we went to the wrong station at first, we still managed to catch our train in time. Every time I was getting slightly nervous, however Ronan's cool always seemed to have a calming effect on me, with just a few words I felt like everything is going to be ok. So it was, even if we had to endure 12 hours on some very uncomfortable seats on that night train.
Once in Huangshan we set up base in the hostel I picked out the night before, where we managed to get a room just fine without any reservations. I did some research on how to get to the mountain and what to do there. I didn't have any clue what to expect, but the hostel staff, went out of their way to give us all the information we needed. We first planned to go for a day trip to avoid the expensive mountaintop hotels but after stumbling on Ctrip (the Chinese version of Expedia) we managed to find some cheap dorm beds in one of the hotels.
Up until now, the hike along the Baikal lake and the climb up the sand dune in the Gobi desert was the two most exhausting activity I had endured in my life, but climbing the thousands of stairs made up the Yellow Mountains made those pale in comparison. Once you do make it to the top it was an exhilarating experience until you find out that you had to climb down a set up stairs and then up again in order to get to the next scenic spot.
Like many other tourist sites in China, the Yellow Mountains were overrun with flocks of Chinese tourists, following their guide like little ducklings and snapping away with their phones and cameras. But once you leave the main sights it becomes much calmer and you get to take in the rather surreal landscape before you. When someone said in the many reviews I had read about the Yellow Mountains, that the landscape reminded them of a Chinese painting, they couldn't be more spot on.
Especially just after sunrise the landscape really comes to life, but once we saw the main sights we were more focused on getting back down. What seemed like a leisurely stroll down the mountain, proved nearly as equally difficult as the climb up as the path led us down and up and down again. Even if I took us longer than planned we did make it in time to the hostel to get our backpacks and catch our next train to Zhangjiajie.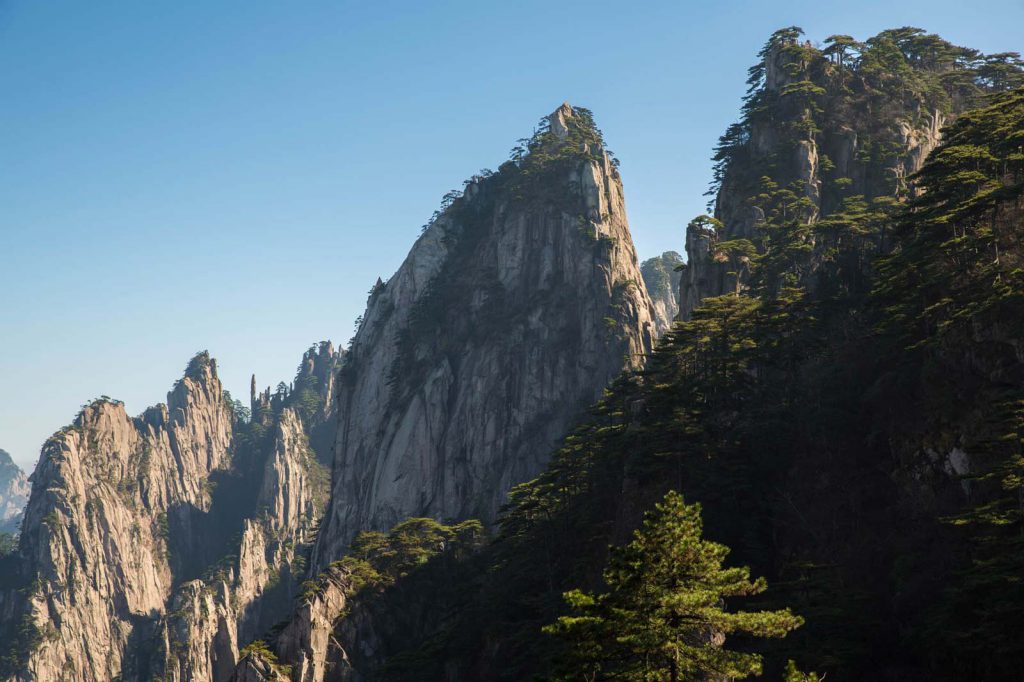 PREVIOUS STORY

Stopover in Shanghai
NEXT STORY
The Avatar Mountains of Zhangjiajie