Story / 13 Jan 2017 / 0 COMMENTS
Faces of Myanmar
Myanmar was the place where I discovered my passion for portraiture and people photography. A country diverse in its culture, heritage and people, locked away from the outside is now filled with a newfound confidence to embrace the modern world and democracy. Before the country follows the footsteps of it's neighbors I wanted to document this fascinating place and its people from the life on the streets of Yangon, to the villagers in Shan state and the monks of Mandalay.
On our second day in Yangon, we strolled inside a seemingly abandoned building only to find that the top floors was taken up by people making it their new home. We saw a group of children playing, including this boy who was very curious about us. After playing hide and seek I pointed at my camera and took a photo of him, he started to pose and play along and lit up with confidence when I put my baseball cap on him. This was the first photo that gave me confidence to pursue portraiture as the leading theme of my trip.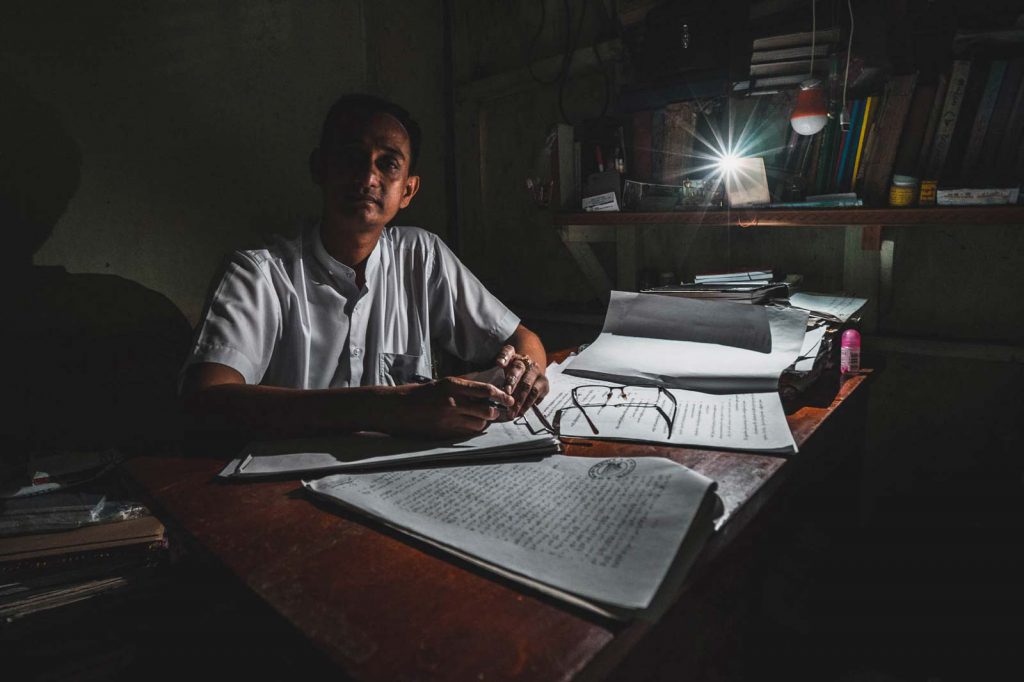 We walked along Yangon's Strand Road, famous for its collection of colonial buildings and saw people entering one of them. We followed inside the dark hallway and proceeded up the 100 year old iron stairs. Reassured by the people passing and inviting us in, we made it up and met a lawyer who told us more about the building and his own life. His office was a small room that was only lit by his mobile phone flashlight. I only found out later that Yangon experiences frequent power cuts, which explained the darkness inside his office.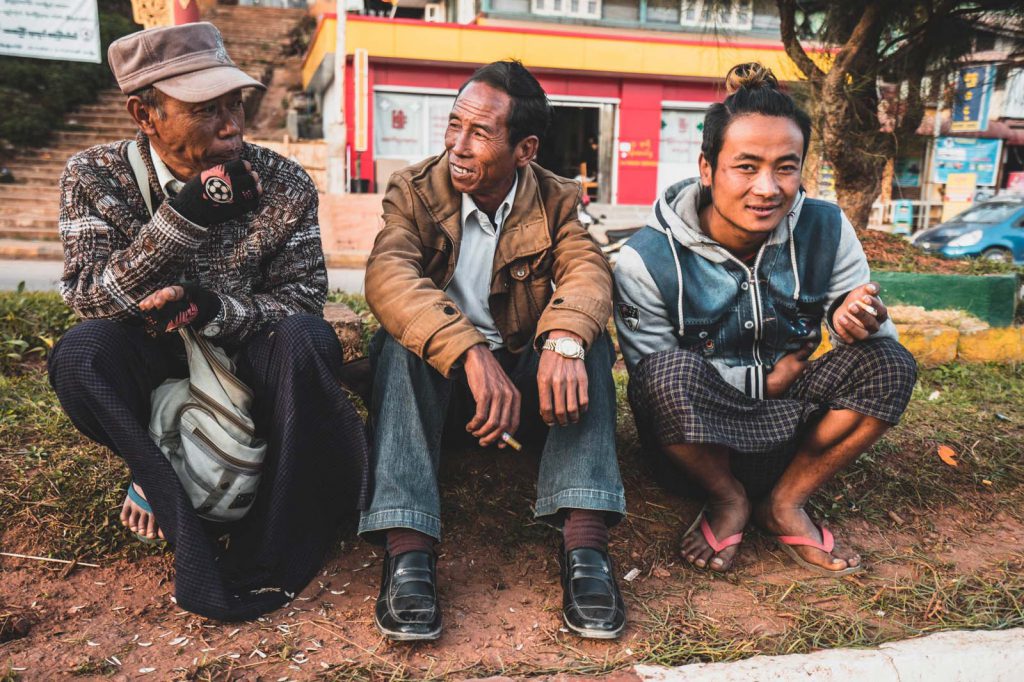 These guys were sitting in the middle of the road of Kalaw in Shan state having a smoke and talking. I walked passed them at first but went back to get this shot.
Whilst trekking from Kalaw to Inle Lake in Myanmar's Shan State, I came across a family and their children tending a field. I went up to the girls and pointed at my camera. They were shy at first but when I showed them their photo on my camera, they got excited and pulled their little brother out of sleep to use them as a prop. He was not delighted at all.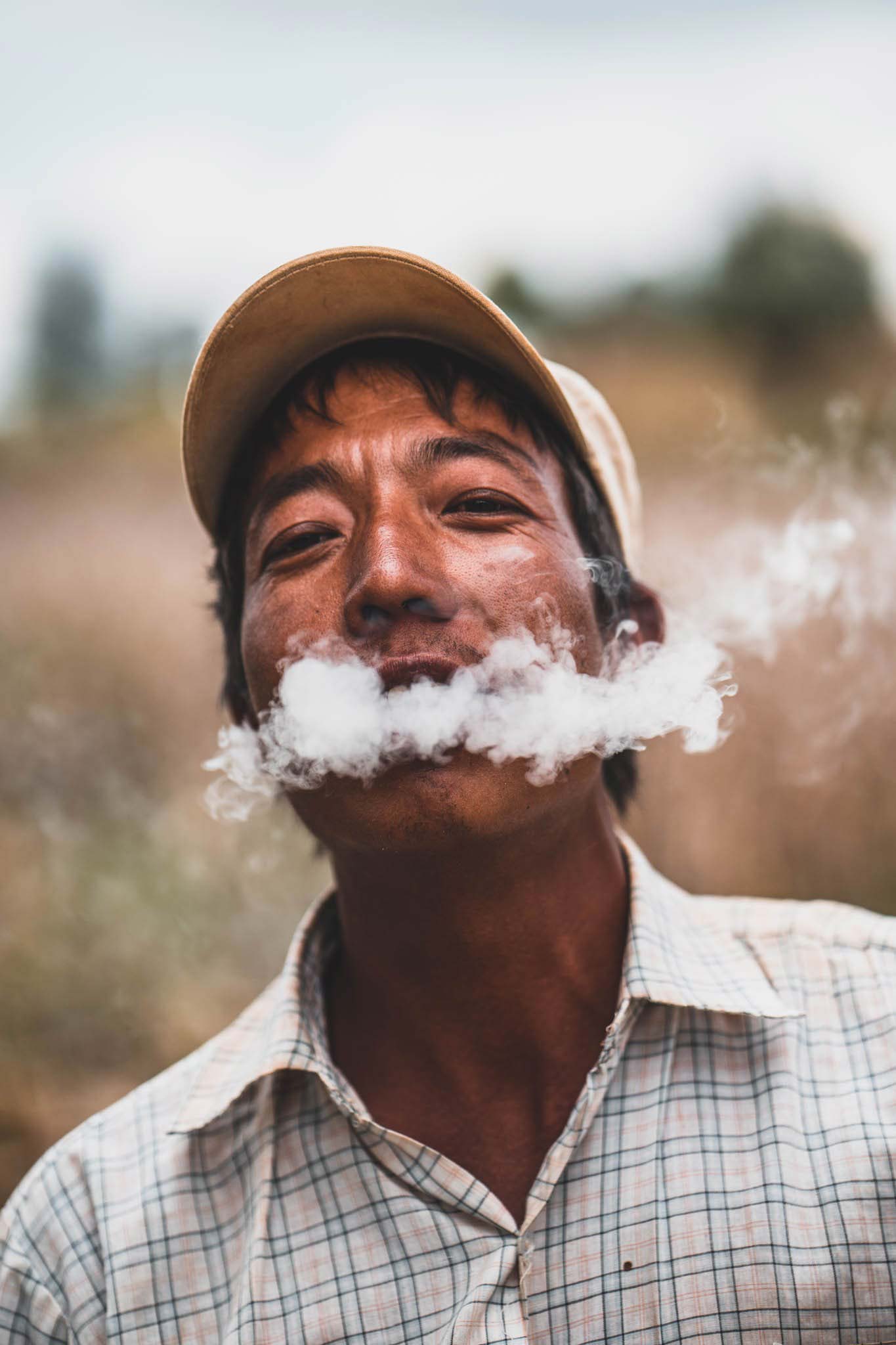 This gentlemen greeted me when I walked pass him on the trek from Kalaw to Inle Lake in Myanmar's Shan State and was eager to have me take a photo in order to show off his smoking skills.
Close to our destination on the first day of trekking between Kalaw and Inle, I walked passed a mother and her two children. I could see that she had a hard time trying to keep the older boy in check. I greeted them with a simple 'Minglaba' (Hello in Burmese) and asked to take a photo. The mom seemed relieved that her boy was occupied and showed pride in her children.
Inle has become rather touristy in the last couple of years and with it a new breed of entrepreneurial fishermen who pose for the camera in return for money. I however spotted a group of real fishermen and asked our boat driver to take us closer, where I managed to get this shot right after sunrise.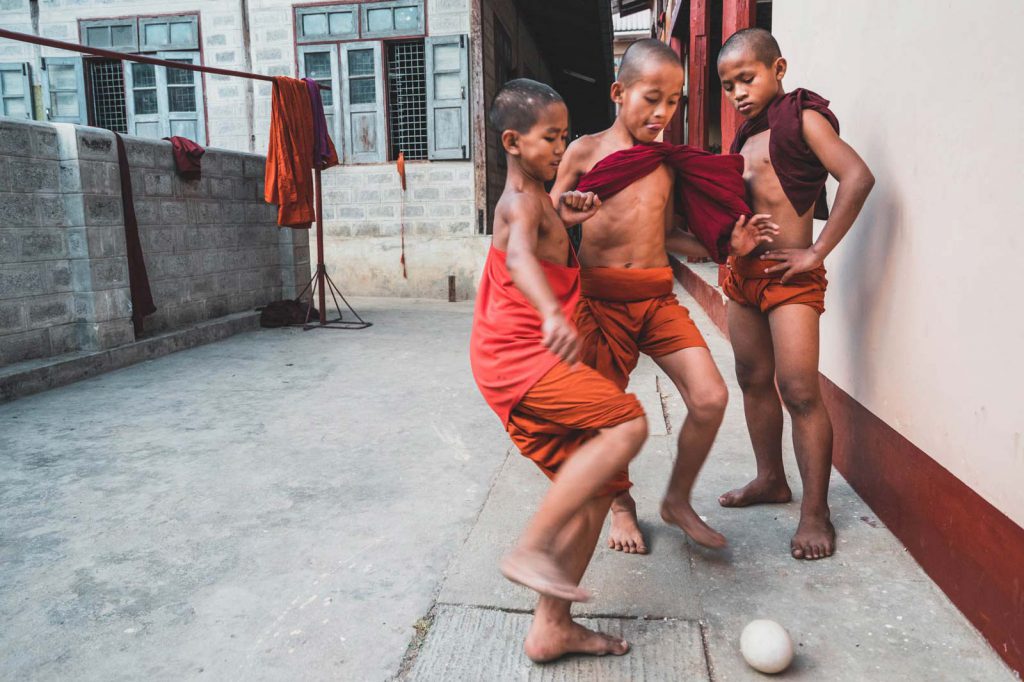 One of my favorite things is to wander around a town and find a daily scene to take a photo of. I came across a monk at a monastery and asked if it's alright to go inside and take photos. He gave me permission and I found a group of novice monks enjoying a game of football. They were shy at first but after showing them their photo they wanted to show off their skill and left me to take photos through their entire game.
Whilst taking a tour of the Maha Gandaryon Monastery in Mandalay I felt ashamed being a photographer as there were at least 40 photographers trying to get a good shot of monks having lunch and treating the place as a human zoo. I wandered off in the compound and chanced on monk deep in thought. He noticed me and I turned around to ask his permission to take a photo. He smiled and posed, but only after resuming his original pose was when I got this shot.
The Circle Train is one of the highlights in Yangon, not necessarily because of the train ride itself but the people we met on the train. These girls were very keen to be photographed and got very excited when I gave them my camera to play around. It was difficult to say goodbye when they left the train.
PREVIOUS STORY

Bangkok to Yangon by Bus
NEXT STORY
Hua Hin and Sam Roi Yot from above