Story / 22 Dec 2016 / 0 COMMENTS
Hua Hin to Sam Roi Yod by Scooter
"You're going to drive with the scooter to Sam Roi Yod?" my cousin scoffed at me in disbelief after I told her of our weekend travel plan to drive from Hua Hin all the way to Sam Roi Yod national park on her little scooter. Having done the Mae Hong Son loop before, this trip didn't seem like much at all considering that its only 120km to get to Sam Roi Yod and back, compared to the 400km of the entire Mae Hong Son Loop. As we were two people we decided to get another scooter so that we would have one each by renting from a local stall on the corner next to City Beach Hotel.
Hua Hin To Khao Tao
We set off around 12:30pm from the city centre of Hua Hin and made our way along the main road number 4 south towards our first stop at Khao Tao. Route 4 is not the most ideal road for beginners as its fairly big and busy, but it is difficult to avoid it without having to zig zag through the urban sprawl of southern Hua Hin and Khao Takieb. Talking about Khao Takieb, if you haven't been there this would be a good first stop, but do plan to leave a bit earlier in the morning if you decide to go as it gets very hot at lunchtime and is no fun to climb the stairs then.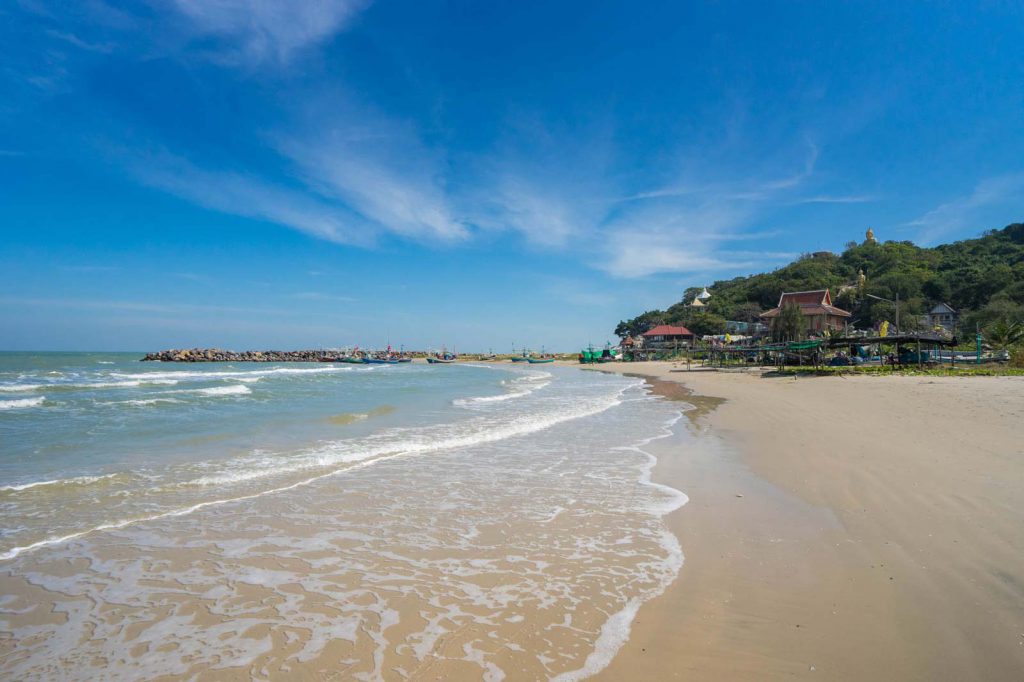 Once we crossed the curved bridge across the tracks, we stopped at the petrol station to fill up our scooters for the trip. We continued down on route 4 which has now narrowed to become a two lane road. A couple kilometers passed the Rajaphakti Park shortly after a bend in the road was the entrance to Khao Tao. Khao Tao is both a rocky outcrop as well as a sleepy fishing village that is home to a temple, one or two beach resorts and a beautiful Thai style pavilion in the middle of a reservoir. There are some shops to buy refreshments and a nice beach to stroll along especially during the evening as well.
Khao Tao To Paknam Pran
We were already running a bit late and thus needed to continue our trip on our scooters. We drove passed the reservoir on the left hand side on a small dirt track that later joined a freshly paved road leading us along the reservoir, newly built houses and pineapple fields. We made our way through the countryside following the signs for Paknam Pran and made it across another bridge and followed the small road until we arrived at a junction where we turned left onto the main road.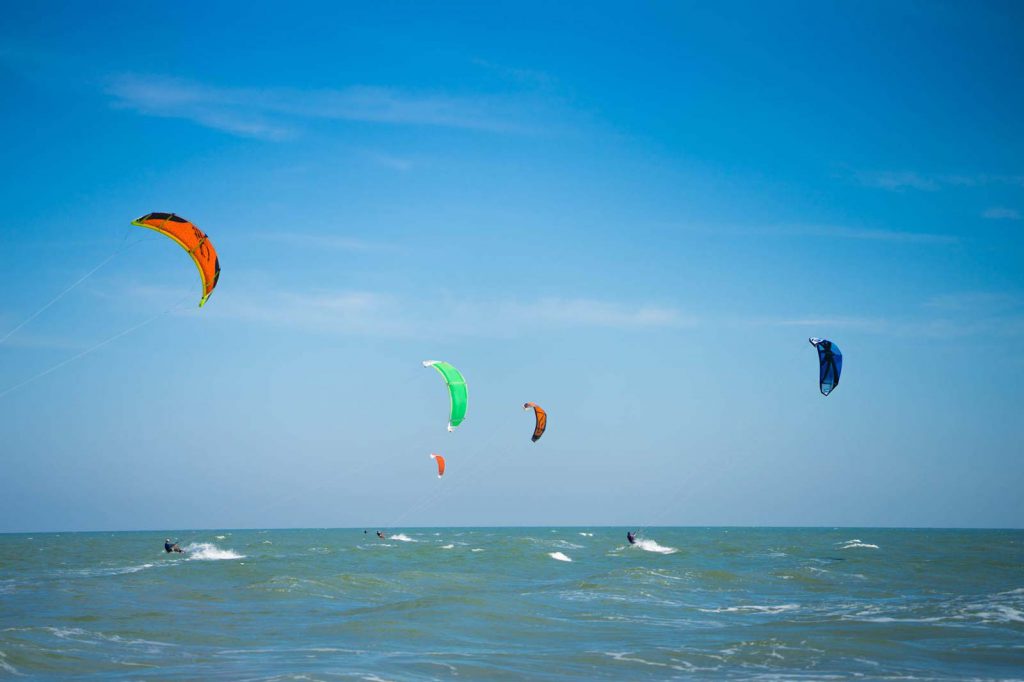 We made sure to follow the signs to Paknam Pran, which translates to the mouth of Pran (Pran is also the name of the river), as there is another Pran Buri Town which is further in land and mainly consists of government buildings, big shops and nothing else. The town of Paknam Pran is foremost a fishing village that has only seen a handful of foreigners come and go, but boasts a couple of guests houses, coffee shops and cheap seafood restaurants serving fresh catch of the day. The main road ends at a small beach where we took a break to watch a group of kite-surfers taking advantage of the strong winds.
Paknam Pran To Khao Kalok
South of Paknam Pran is a beachside road that has been recently completed in anticipation of development that never seemed to have arrived. The waves along this stretch of shoreline were rough and the winds strong as we rode our scooters along it. There were a couple of resorts, empty beach houses built by rich Bangkokians and a lots of humps on the road that always caught us off guard. After roughly thirty minutes we made it to our next stop at Khao Kalok named after the stony hill dotted with caves which locals associated with a skull. Try as I may I could never make out any resemblance. This is a great spot to have a food break where you can choose from succulent grilled chicken, fresh papaya salad and off course some local seafood. We intended to check out the beach, which is much nicer compared to the earlier stretch, but found ourselves climbing up the hill to reach the viewpoint instead. The sun was already low and the golden light lent this place a magical flair. Here we met two other guys who came up the other way which decided our next steps as I diligently explained to my friend Rani: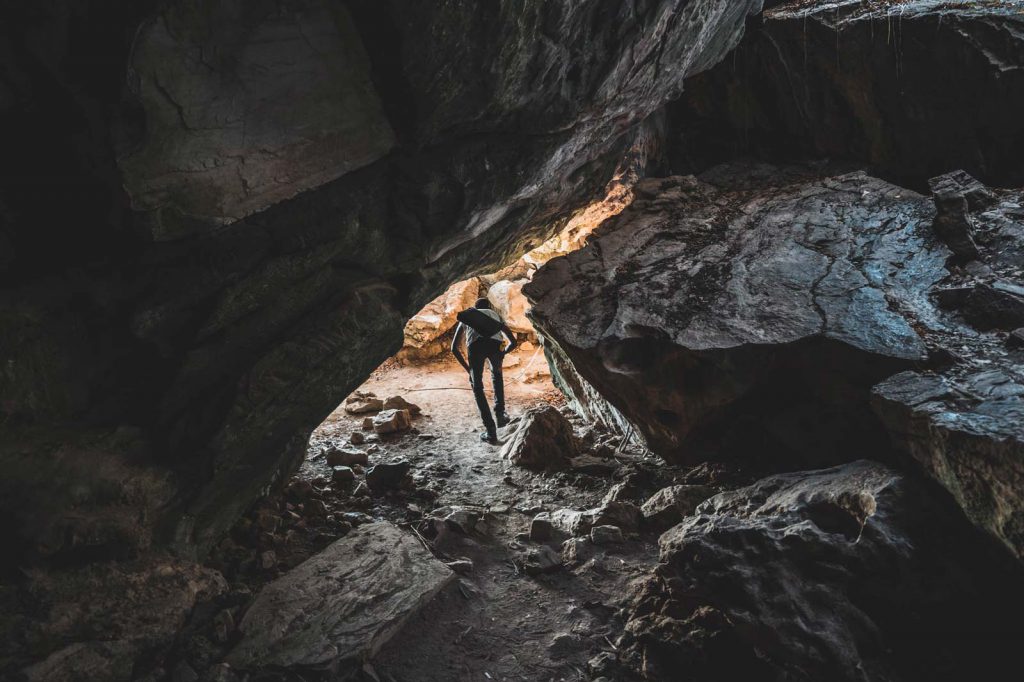 "If I can, I don't like to go the same way twice."
To which he asked: "Why so?"
Me: "Because you never know if there is something even better around the corner"
As we made our way down, my motto proved itself as we came across some beautiful caverns and had our adventure moment squeezing between what barely could be called 'an opening in the wall' in order to reach the other side. Our little adventure ended when we reached the end of the stairs and found our way back to the road, where we hopped on our scooters and continued our road trip.
Khao Kalok To Sam Roi Yod
As we passed a local temple, the road once again opened up onto yet another beach where we stumbled on a number of small fishing boats moored within the natural harbor. I spent some time getting a shot when both of us noticed the sound of a sermon being delivered over the village megaphone and decided to listen in. During the last couple of days both of us were talking about the importance of living in the moment and how well we did doing do within this time. So it was nice to hear the same message coming straight from a local Thai monk who was preaching that people should stop wasting their energy living in the future or the past and instead focus on the now. Standing there watching the sunset, feeling the wind brush through my hair and breathing in the fresh ocean breeze and sharing that moment with a friend, I truly understood the significance of those words.
I could have stayed there for hours but we needed to make it to Sam Roi Yod before it got too dark. We drove along the beach without thinking too much about directions and ended up at the end of the road with no where else to go, only a little fishing village and cats were there to greet us. We traced our way backwards until we found a little path leading up to the main road that took us all the way to Sam Roi Yod.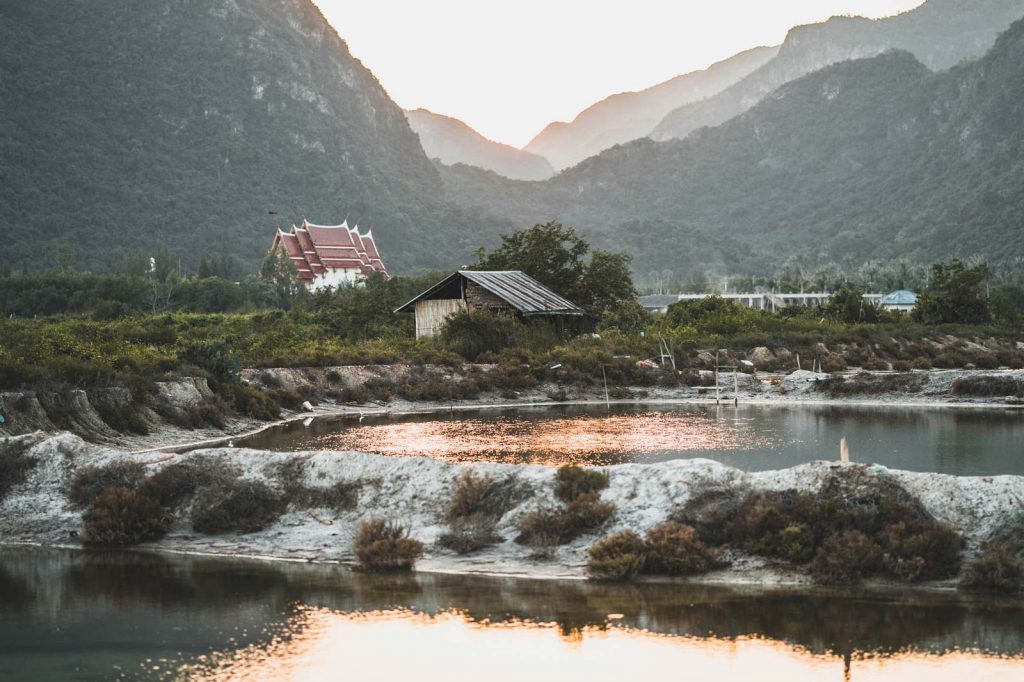 The sun was just setting behind the mountains when we arrived at the park, but we found a place to stay in a fishing village just in time, thanks to a local woman carrying at least six children on her scooter who seemed to be doing nothing else than driving them around for their sheer enjoyment.
Shooting Stars
As Sam Roi Yod is located far from any major city, I always wanted to come here to take photos of the night sky. So when we finished up our dinner and applied heaps of mosquito-repellent, we once again took off on our scooters into the darkness off the national park. An unlit road leading to nowhere proved to be a great place to check out.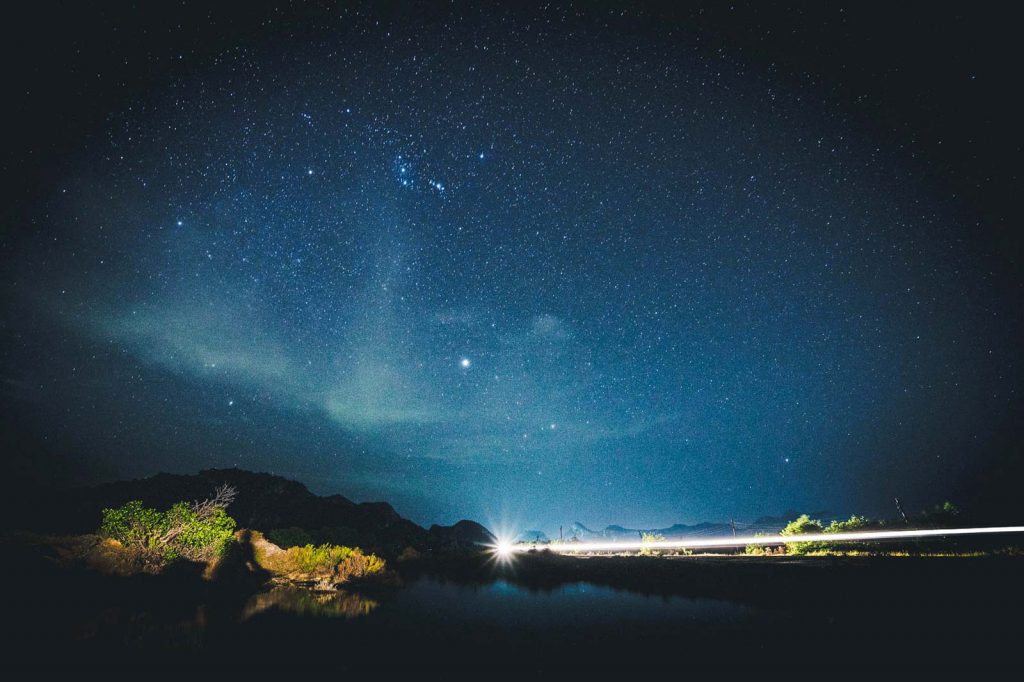 Whilst setting up my camera, off course I realized that I didn't charge the camera battery as I thought I would, and had to made do with the 5-6 shots I could squeeze out of that charge. Nevertheless looking up at the stars, both of us agreed that today was when both of us truly lived within, and enjoyed the present moment.
PREVIOUS STORY

Wandering Inside Wat Phra That Si Chom Thong
NEXT STORY
Bangkok to Yangon by Bus